Putting Apollo, Miyata, Dodsun, Southern Cross frames to practical use, and offering unique ride analysis software
My collection of vintage frames are all adapted to best use. The Southern Cross, Apollo, and Dodsun were all $15 specials from our "Tip Shop" at the local landfill. A couple more at $15 gave enough parts for the restorations. End cost was about $20 each.

(See also Disk brake upgrade on "current" projects page, and electronic derallieur on Arduino page)
Project: Miyata Valley Runner update
A classic Japanese frame sought after for trekkers, but sold originally as a mountain bike. Now upgraded, with new rims, to mechanical disc brakes. 26x1.95 Marathon Plus on front, K-Mart MTB tyre on rear! Suspension seat.
28-38-48, with 12-30, 8sp rear.
Note the rear facing camera, and GPS mount on handlebars with optical sensor to front wheel that plugs into the Arduino bicycle computer. All up, a 35lb indestructible monster, but a pleasure to ride. The previous owner thought so much of this bike, he bought it with him when he emmigrated from the US. I confess to paying A$80 for this classic.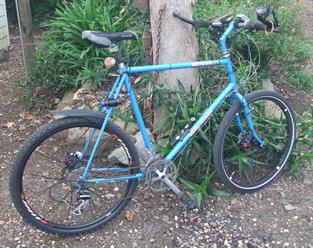 Project: Southern Cross update
A hand built frame, I believe, from a Sydney builder. This has been built up especially to let this older rider enjoy Beverly's road, a 15 km hilly section betwen Briagalong and the Dargo Road in East Gippsland that has an undulating profile. Riding W-E is a breeze, but coming back there is a "brick wall", hence the Grannies. 27" steel rims replaced with rims for 700's
Drops removed. (Age related!) 700x25 tyres, 24-34-42 front, 14-28 5sp rear. 27lb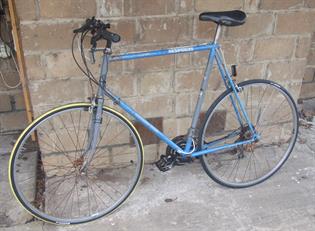 Project: Apollo update
By another well respected framer. This has been built up especially to let the author rider enjoy a popular local loop (Fingerboards, Fernbank, Stockdale, Beverly's, and return down the Dargo Rd to the Fingerboards). A comfortable 55km. 27" steel rims replaced with rims for 700's Drops removed , 700x25 tyres, 28-38 front, 14-28 5sp rear. 27lb.
Project: Dodsun update
The Dodsun Countryman, another classic MTB frame, from Taiwan, but not a high-end bike by any means. This one is for my daily fitness ride around some very hilly farm tracks. Lovely to ride, if a tiny bit small for one with my inseam.
26x1.75 Kenda Kross tyres, 28-38-48 front, 14-28 rear, 7sp. Just a lovely bike to ride. Originally Exage 350 range components, now a real mix. Interesting rear frame setup, and very strong.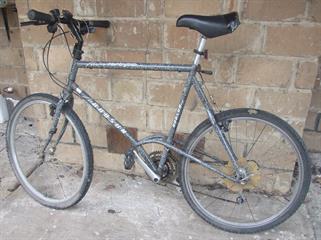 Project: Avanti Nexus 8 update
The Avanti with Nexus 8 is now only used as my Rail Trail bike. I purchased with great expectations, but soon realised the gearbox losses, especially in 4th, were immense. As well, this bike was sold with hopeless gearing for the hilly country around Bairnsdale.
The rear sprocket is now changed from 19 to 21, and front from 38 to 36 (from memory) and this is ok for all our local hills.
I researched and drilled the gearbox housing with a 1mm hole, through which I have annually injected 25ml of Power Steering fluid.
Saves dismantling, and has helped ease the gearbox resistance, but all gears still have greater losses than derallieur. Actually the most comfortable bike to ride, but was sold without lockouts on the forks, and that makes it a nightmare on soft sections of a country rail trail. 700x38 Kenda Kourier tyres are handy and you don't have to fear going off the bitumen.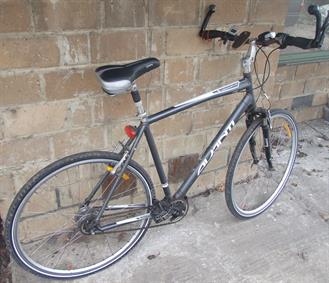 Excel calculator lets you see exactly what your gear set can do. Helps you plan your upgrades, and work out some basic energy expectations. Good stuff exists on the Internet, but this one allows a drag and drop review, and allows you to quickly determine the more useless combinations of chain ring and sprocket sets.

Project: Quick Gear Inch Analyser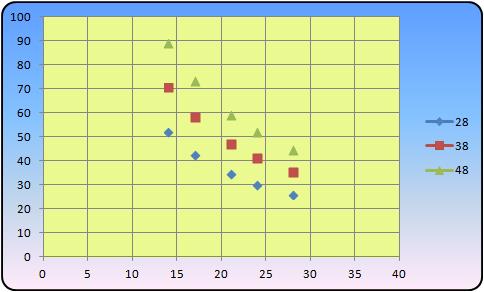 Gear inch chart is produced by Wardie's Gearing Analyser, below, and shows the 8 speed cassette gives a very handy range off the 38 chainring to suit the undulating foothill roads around Bairnsdale.
This gear combination is too low. Will be re-visited!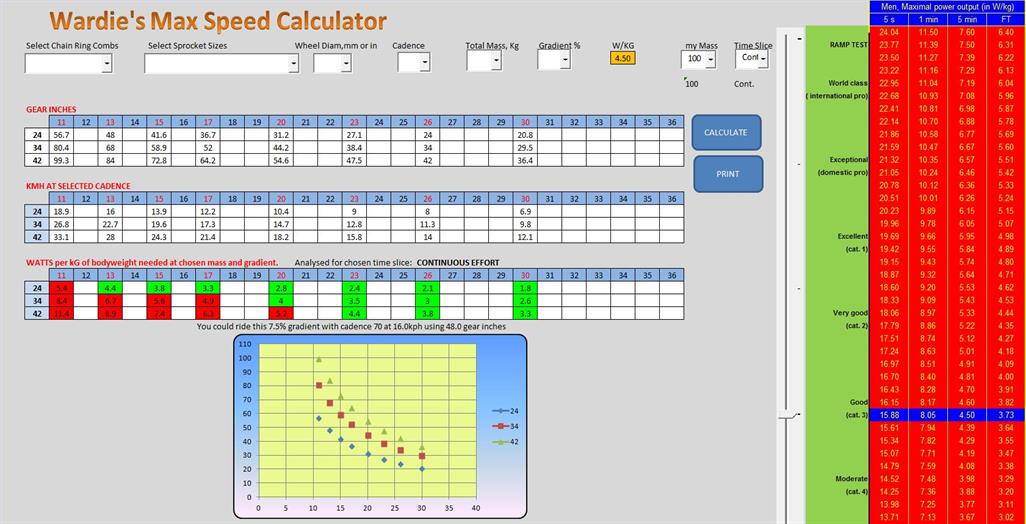 The screen may look like the previous, but works entirely differently.
This calculator lets you determine what gear and max speed you can pull, condsidering your given level of fitness, on a nominated slope.
You can analyse your ability for a 5 minute, or continuous time slice.
Using the slider that runs down beside the chart giving Watts per Kg ability for different classes of cyclists on a RAMP test, select a level that represents your approximate ability. (Normally you could have a good approximation of this from my Ride Analyser software analysing a GPX file made on a known climb, but without that you have to guess)
The cells colored green are gears you would use on this climb, and the report just above the chart summarises your maximum ability.
Project: Max ClimbingSpeed Calculator

This project also appears on the Excel page, and has a screen shot of the setup and report page. The slider at center allows you to choose a level for your ride to be compared against published RAMP test expectations. A separate page imports your GPX file, and dumps it onto a "scratch" sheet for processing. I realise RAMP tests are quite different to road work, so this software looks at your ride in small blocks similar to the standard RAMP tests.
This software is the simplest, and because my home built Bicycle Power Meter also appends tilt angle, distance and barometric height to the end of the GPS string, I then use an enhanced version of this software. When my wind speed sensor is included, it will then become very similar to the iBike method which uses basic energy equations instead of expensive load cells.

Wardies Ride Analyser.xls, analyses performance in chosen time blocks
Project: On Road RAMP Test, well, sort of!

Miyata Valley Runner, disk brake upgrade.
Southern Cross frame, 700x25 upgrade.
Apollo frame, wheel and gearing upgrade.
Dodsun MTB frame, lovely as is. Upgraded only the chainring set.
Screenshot, bicycle gearing calculator.
Screenshot, bicycle gearing calculator, with analyser to indicate what your level of fitness can do.
Project: Electronic Derailleur

No challenge to Shimano's Di2, but as this project approaches a road test, total cost should be less than US$100. The design features indexed shifting, with a joystick being nudged forward or back to initiate a rear change, or sideways for a chain ring move. Buttons are used for centering trim if needed, with all settings being retained ready for next startup. Display reports gear and battery status. Disaster recovery is also programmed.
All working on the bench mockup, now being assembled into a useable format ready to put in a frame.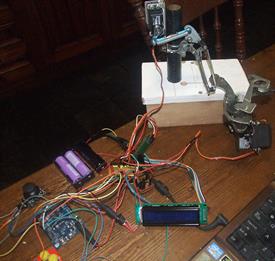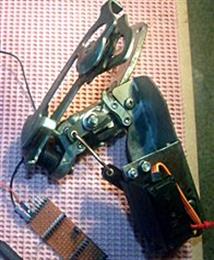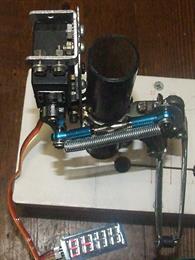 Above left, the rear derailleur, and right is the front. In the middle is the bench mockup used in design and testing. Design notes, and software for the Arduino platform are on my Arduino pages.
Update Feb 22 2016:- Power Steering fluid injection for early Nexus 8's
Project: Power Steering Fluid lubrication for Nexus 8 SG-8R20 Hub

The official re-lubrication of your Nexus 8 hub is a daunting affair, and I suspect that the recommended compound
has difficulty in getting into the bearing area of these plain bearing hubs (8R20, 8R22, 8R31). Gearbox efficiency in
these hubs is poor, down to 80% in 4th, so lubrication is vital. (And expensive if you have your shop lube it annually!)
Instead of dismantling, I now inject just 3ml of Power Steering Fluid annually through a tiny hole in the hub shell.
This lubricant has served me well for nine years now, and I have never stripped the hub for service.
I share my method with a huge caveat.
CAVEAT: You can wreck your hub drilling the lubrication hole! Best do it with the hub dismantled!

However if you are prepared to take the risk, here's how to do it in situ. (Practice on some metal first):-
You need to drill a 1mm hole at a particular radius through the seal and hub shell (see photo), with a technique to
avoid getting any swarf into the hub.
If you try to replicate this trick, be prepared to have to strip the hub completely and clean every bit of swarf out if
you push any through!
At the radius shown, and no other (else you may drill into a hardened bearing carrier) use a 1mm drill in a Pin Vice
to drill slowly until the point just starts to "dimple" through. Keep checking with a strong needle.
(2016 Reflection! At this stage you might just push a pin point slightly through the dimple, and be able to push the fluid
through without the risk the next step involves, if you "cone" your syringe needle.)
Next, covering the drill bit and hole with a thick grease, push the drill through, rotating a tiny amount so the swarf is
not broken away inwards. Now pull back quickly, twisting so as to break the swarf as you withdraw.
That's it! If you're not confident all the swarf came outwards, you will have to strip the hub and clean it!
If you did a good job, inject your 3ml of Power Steering Fluid using a syringe with the point ground flat.
DO NOT ROTATE WHEEL while NEEDLE IS INSERTED.
Stand the frame up and spin the wheel to spread the fluid,then take it for a good ride.
After injecting, the hole is sealed with a tiny patch until next year. Over the year you may see some tiny weeping
out around the seals, but it will be small. The first time I did this, I put 10ml in, and it escaped big time. Stick to 3ml!

Repeat annually. You will immediately appreciate the improvement in pedal effort.
(If you noticed that rusty chain, we live beside a dairy farm. The effluent sprayed puts something into the air that rusts
exposed steel almost overnight.)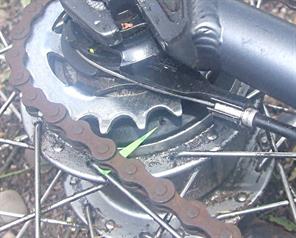 Above:-Annual injection of Power Steering Fluid to lubricate my Nexus SG-8R20 hub.
Hole position for lubricant injection into my
Nexus 8. An absolutely unapproved modification! And, one that may wreck your hub.